Authorized by the IB, Chengdu Meishi International School is an IB DP & PYP & MYP World School, offering the DP, the PYP, and the MYP. Chengdu Meishi International School is the only school that three IB programmes were completed in western China.
The introduction of our school at the IB offcial website: www.ibo.org/en/school/003888/
CMIS has officially become an IB MYP World School since July 2016. The MYP is the abbreviation for the Middle Years Programme. It is the bridge between the DP and the PYP. It is designed for the students aged 11-16 and prepares them for the DP in order to lay a solid knowledge foundation for their success in the world prestigious universities and, as a result, they can become outstanding global citizens.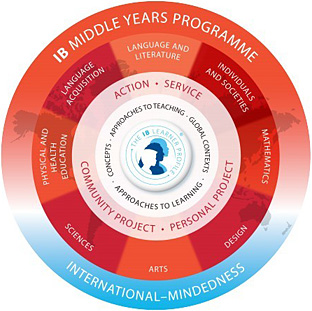 The Key Words of MYP
MYP aims to develop all-round development, an international and strong sense of social responsibility citizen, and to promote young people lifelong learning ability and the actual problem-solving ability. In order to achieve this educational purpose, its curriculum structure setting is very comprehensive.
Learner-centered: MYP emphasizes learners' active learning, inquiry-based learning, and actively cultivate students 'learning autonomy, try to build students' overall system of the various disciplines of knowledge to achieve the needs of the international community for talent.
Combine Learning and Real Life closely: the eight subject groups (language and literature, language acquisition, individual and society, design, mathematics, art, science, physical and health education ) and global themes together let students in the classroom can learn to not only stay in the books, from the "Identity and Relationships," "Positioning time and Space," "Personal and Cultural Expression," "Scientific and Technological Innovation," "Globalization and Sustainable Development", "Equity and Development" six areas to promote students' practical ability to apply knowledge to solve practical problems worldwide.
Emphasis on Learning and Teaching Methods: In the MYP teaching process, it particularly emphasizes the difference teaching; emphasizes the development to enhance the students' actual learning. From the exchange, society, self-management, thinking, investigation five specific aspects to carry on the concrete study method.
Emphasis on Service and Actions: Neither discipline curriculum learning, or the fulfillment of social civic duty, is not stay in the oral and literal, but through the actual operation and service.
The IB Education Goals:
MYP in high school is making unremitting efforts for the purpose in order to let the students become a comprehensive development person on real significance. We develop and stimulate the students' quality in the education teaching activities.
Inquirers
Knowledgeable
Thinkers
Communicators
Principled
Open-minded
Caring
Risk-takers
Balanced
Reflective